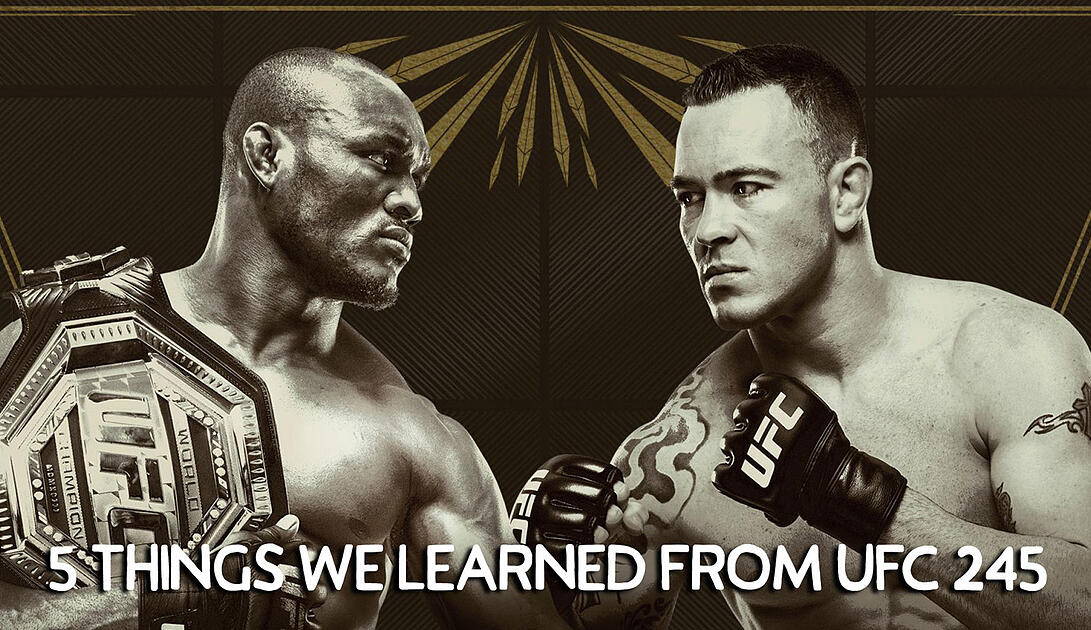 5. Chase Hooper is a Bad Ass
The 20 year old Hooper earned his shot in the UFC on Dana White's Contender Series. The Featherweight impressed in his debut, overcoming early danger via a submission attempt by Daniel Teymur and threatening with submissions of his own before transitioning to mount and finishing Teymur with strikes in the first round. Since Sage Northcutt is no longer in the UFC, it's nice to see a young man who's polite, respectful and clearly enjoying his opportunity to shine in front of the world. It's nice to have him talk about rewarding himself with some M&Ms and give us all a break from the trash talk and posturing that has become the norm. That can be fun too but the fresh-faced, nerdy-looking kid that can also kick some ass inside the Octagon is just refreshing. I'm looking forward to Chase's evolution.

4. Amanda Nunes is Not Invincible
"The Lioness" retained her belt in a dominant performance against Germaine De Randamie but not without revealing some potential holes in her game. Nunes was stopped by Cat Zingano in 2014 but since then has run through some of the greatest women in the sport. Her list of vanquished opponents include former champs: Rousey, Holm, Cyborg and Tate. However, in the first round of the Women's Bantamweight title fight fight, De Randamie had some success standing. She was able to survive the initial onslaught from the champ and was using her kickboxing skills and use of range to keep it competitive. When the fight was standing, she was in the fight. Nunes, of course, was able to bring the fight to the ground for the next four rounds and largely dominate. It won't be an easy task but there seems to be a road map for beating Nunes. Technical striking, staying at range with footwork and kicks and avoiding getting overwhelmed by the pressure she brings and as "The Iron Lady" showed, take down defense. A good chin will help too. Taking nothing away from the champ and her skills, it will be interesting to see how her future opponents gameplan for her in light of this fight.
3. Aldo is as Dangerous as Ever at 135
I wasn't the only one thinking that there was no way this big weight cut wouldn't have a negative influence on the former Featherweight king. He proved us all wrong. Aldo looked great on fight night. And while he lost a very close fight to Marlon Moraes by split decision, Aldo looked sharp and stayed fresh for all five rounds, showing that the cut did not affect his gas tank. Despite the loss, Aldo proved that he can absolutely be a contender at Bantamweight.
2. Alexander Volkanovski Really is That Good
I picked Max Holloway based largely on the level of competition he's beaten compared to Volkanovski. Yet, the new champ showed a flawless execution of an effective game plan against Holloway on Saturday night. Alexander used brutal leg kicks to keep Max at bay and throw off his rhythm. The kicks began to pay dividends early in the fight, forcing Holloway to fight southpaw to protect his leg. Volky immediately began attacking the other leg and while Holloway was able to dig deep and find some success in the last two rounds, the first three rounds were, in my opinion, already lost. I'm a big fan of Max Holloway but I think Volkanovski deserved that decision. There was some debate over the decision but I don't know how those leg kicks don't give the first three rounds to the Aussie. There are leg kicks and there are LEG KICKS -the kind that are doing real damage. It was a close fight but one that I think Volkanovski rightfully earned the win for. It will be interesting to see how long the new champ can reign.
1. Two Accomplished Wrestlers Can Have an Exciting Kickboxing Match
I wrote in my UFC 145 preview that I believed Colby Covington would be outworked by Kamaru Usman in the last half of the fight and that is what happened. However, what I didn't see coming was neither man even trying to use their wrestling prowess at any point in their Welterweight title bout. Sure, sometimes two wrestlers or BJJ practitioners will wind up at a stalemate and that will force the fight to stay standing --and usually turn into a sloppy boxing match. However, if you knew nothing of Usman and Covington going into this fight, you'd have never guessed they were both decorated wrestlers. They both showed off solid kickboxing skills and it made for an exciting, competitive fight. Usman used both punches and stabbing teep kicks to the midsection to slow the forward pressure of Covington. While both men had their moments to shine, the champ was just a little more accurate and effective and that began to take its toll after a jaw fracturing punch by Usman in the 4th. By the 5th and final round, Colby's toughness wasn't enough to stop Usman who landed shots that dropped the challenger before following up with several unanswered strikes on the ground causing the ref to stop the fight. Overall, UFC 245 was a great card with plenty of drama, excitement and surprises. You can't ask for much more. Thanks for reading and we'll see you on the next one. until then, always protect your goods with the GOAT of groin protection Diamond MMA!